41st Annual Pastors' Institute
January 22-24, 2018

Crucial Conversations
Everyone has them. Ministers of the Gospel have them quite often. Sometimes they go well and sometimes they do not. In their introduction to their 2002 Book Crucial Conversations, Patterson, Grenny, McMillan and Switzler state: "We argue that the root cause of many, if not most, human problems lies in how people behave when others disagree with them about high-stakes emotional issues. We suggest that dramatic improvements in organizational performance are possible if people learn the skills routinely practiced by those who have found a way to master this high-stakes, 'crucial' moments." (Crucial Conversations, Preface, p xii.)
Ministers talk to young people who want be married, or when a pastor counsels a family whose parent is on a ventilator, embark on a Crucial Conversation. When a pastor discusses with his/her Board the need to build or relocate, this is a crucial conversation. When the largest contributor to the Church enters the Pastor's Office angry because of a change in worship, yes, that is a crucial conversation. When a finance committee discusses what to do about a budget shortfall, this too is a crucial conversation. When a Christian couple comes to their pastor saying they are not sure they love one another anymore and they are considering divorce. This is a Crucial Conversation. Those in ministry can list dozens of these type of conversation they have each year. They are not just for Senior pastors. When a youth pastor has a student questioning their gender identity, or when a teen couple come and ask why they should not have sex before marriage, the youth leader is dealing with a Crucial Conversation. These happen in every ministry in a myriad of ways.
Can we be prepared for such conversations? Are there ways to know what to say when such a conversation arises? Is their any hope that such a confrontation does not lead to disaster? This is what Pastors' Institute 2018 is about. Dr. Chris Cottrell experienced pastor, mediation consultant, and a leader trained by the Crucial Conversations organization will lead us to be more effective when these critical times arise. In addition we will have as Minister in Residence, Dr. Carl Addison who has made a career of listening to and carrying for those in ministry. We have reconfigured our time to give more opportunity for our ministers to share with one another and get better acquainted. This added to all the amenities of Gull Lake will make this year's Pastor's Institute better than ever before. Plan now to attend!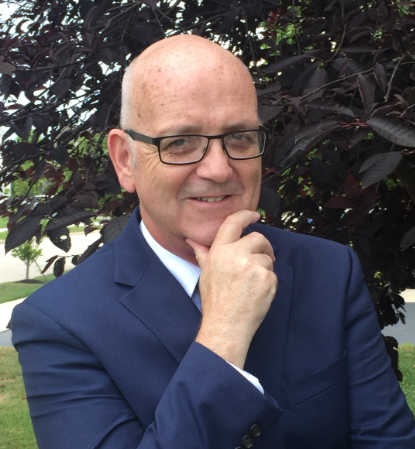 Dr. Christopher Cottrell is a graduate of Anderson School of Theology. A former pastor, now devoting his time to mediation and conflict management. He is a certified trainer of VitalSmarts Small Business Partner and Crucial Conversations. Dr. Cottrell is an International Mediator, Executive and Team Conflict Coach. He brings humor, compassion, and brilliant insight to hard topics of conversation. What others say about his work:
"Chris teaches from the heart with practical applications that create peace and resolution in nearly impossible situations." — Dr. Randall Spence
"Chris not only has the education, experience, and expertise for dealing with difficult situations, he was 'made' for it in the way he interacts with people. Chris has a way of disarming people and situations that allows the best possible solutions to be explored by everyone." — Dr. Greg Wiens.
Dr. Cottrell lives with his wife, Esther in Columbus, Ohio. His expertise, humor, and experience will make this year's Pastors' Institute one that will be remembered and discussed for years. In a profession where we are confronted almost daily with "high stakes" conversations, these two days of training will be invaluable!!
Dr. Carl Addison has served as the Executive Director of Earthen Vessels Ministry (EVM) for the past ten years. EVM exists to serve pastors, their families, and the congregations they serve. EVM offers pastoral care for pastors, multiple types of coaching for pastors, marital coaching for ministry couples, crisis care for pastors as well as ministry families, and other services designed to support those in ministry.
Carl pastored in Michigan, Ohio, and Missouri for 28 years before founding EVM. He and his wife, Valerie, have been married for 38 years. They have three married children, six grandchildren, with number seven on the way. His ministry at EVM includes contract services for Indiana Ministries, Catalyst Church (Pendleton, Indiana), walking with a number of pastors, and coaching in a variety of settings. He also is an adjunct professor at both Indiana Wesleyan University and Anderson University.
Dr. Addison received his BA and M.Div. degrees from Anderson University and his D.Min. from Samford University in Birmingham, Alabama.
Lifelong Learning Matching Funds
Lifelong Learning Matching Funds may be used for this event. Email the Service Center your request to use these funds as registration or to know your current balance. Include a roommate preference in your email.