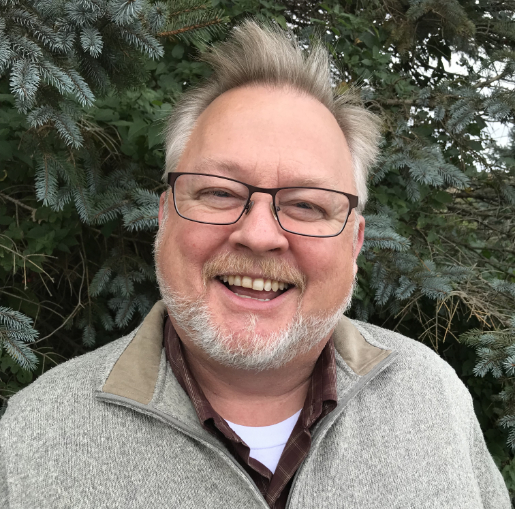 Reverend David Perry, Northwestern Michigan Region
dwperry804@yahoo.com;
(989) 875-3607 (Church);
(616) 334-3527 (Mobile)
I grew up in the Pasadena Park Church of God in Grand Rapids, Michigan, just off of Plainfield Avenue, behind the Fat Boy's restaurant. My pastors were Rev. Forest Plants, Dr. James Edwards, and Rev. Donald Dillon. It was a wonderful church family to grow up in.
My initial commitment to Christ occurred at Youth Camp in 1968 at Warner Camp. I preached my first sermon at Warner Camp in 1976 and was baptized there by Pastor Dillon at Camp Meeting in 1976.
I felt the call to ministry and attended Anderson College, gaining a BA in 1981.
I met my lovely wife Jeannie Taylor at college and we married in 1979. We have been blest with three wonderful sons; Matt and his wife Deanne, in Dewitt; JJ and his wife Jennie, seminary student at Anderson; and Aaron, a junior preparing for ministry at Anderson. These sons represent the 3rd generation of Perry's to study at AU and to serve in the Church of God.
I have served in pastoral ministry since January of 1981 – as a youth pastor at the Skyway Church of God, Seattle, WA '81-84; CE pastor at Sunset Park Community Church in St. Helens, OR '84-85; as senior pastor at the First Church of God in Cassopolis, MI'85-90; as senior pastor at the Greenville First Church of God 1990-2008; and now as the senior pastor at the Edgewood Church of God, Ithaca, Michigan.
I have served on the state level in a variety of positions. Jeannie and I directed youth camps for more than 17 years. I have been a part of more than nine missions trips across the US and Guatemala and Brazil. I have served locally on Housing Commissions, chair of Ministerial groups and chaplain service in jails. Jeannie and I love our family, camp meetings and Diesel, our Security Attack Yorkie Terrier!!!!
It is my pleasure to serve under our State Pastor, Dr. William Jones, and as Regional pastor to be an encourager to our congregations, a pastor to pastor, and a cheerleader for the wonderful things God has in store for the Church of God in Michigan. Great opportunities lie before us here in Michigan!
First Church of God, Alma
Barryton Church of God, Barryton
New Hope Church of God, Belding
NorthernLight Church of God, Cadillac
Hillcrest Community, Cedar Springs
Community Church of God, Charlevoix
Freedom Way Church of God, Crystal
First Church of God, Edmore
Faith United Church of God, Grand Rapids
Orchard View Church of God, Grand Rapids
First Church of God, Greenville
Edgewood Church of God, Ithaca
Ithaca Church of God, Ithaca
New Covenant Community Church of God, Kentwood
Church of God United, Muskegon
East Muskegon Church of God, Muskegon
First Church of God, Saint Johns
First Church of God, Saint Louis
Sears Church of God, Sears
Pine Grove Ministries and Church, Traverse City
Iglesia Vida Plena, Wyoming
Sunset Park Church of God, Wyoming