2022 Leadership Directory
Board of Directors
Sheila Granger, Chair; Tad Mellish, Vice-Chair; Jeff Salisbury, Secretary, Tom Bader, Jeff Eckman, Cathy Ganus, Lucius Hayward, Michael Harris, Doug Irving, Connie Mashue, Wendell Thompson, Mark Richardson, David Aukerman, ex-officio.
Executive Committee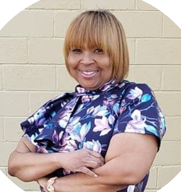 Sheila Granger, Chair
Joseph Campau Church of God, Detroit
In March of 1998 Sheila Granger attended a church retreat and surrendered her life to Christ. Realizing the need to be connected with a local church, she began to seek the Lord and was directed to the Joseph Campau Avenue Church of God. As she continued her walk with Christ, she discovered a passion for encouraging Gods people through His word and under the leadership of Rev. David Lunn, she acknowledged her call to ministry. Since that time God has graciously opened doors and provided opportunities for her to use her gifts.
She has served in various roles demonstrating vision and leadership: In her local congregation, Minister Sheila Granger also serves as a Sunday School Teacher and Vice President of the Usher Ministry. She served as Vice President and President of the Michigan State Ushers of the Church of God where she also led various committees; she served as the Secretary and the Treasurer of Ministers and Laity United (formerly Greater Detroit Metropolitan Area Ministerial Fellowship) and currently works with the financial and program committees. She has facilitated workshops and served as the expediter for numerous events. Her ability to multitask is a great ministry asset but her passion is drawn from Psalm 119:18 Open my eyes that I may see wonderful things in your law.
Her educational achievements include an Associate Degree in Christian Leadership from the Christian University of Southern Indiana and a Master of Science degree from Central Michigan University. Sheila also serves as a board member of the Alumnae Association of the Geraldine Marvell Miller Wright Institute for Women in Ministry.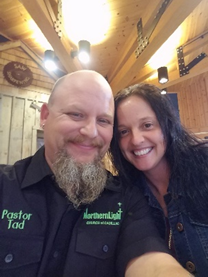 Rev. Tad Mellish, Vice-Chair
NorthernLight Church of God, Cadillac
I have been married to my beautiful wife for more than 25 years and have one son. I am also, retired from the United States Air Force where I served as the Group Staff Agency Superintendent. During my time there, I managed personnel, budgets, and additional management resources. I am currently serving as a Pastor at NorthernLight Church of God in Cadillac for more than six years.
Mr. Jeff Salisbury, Secretary
Jeff has served as Secretary of the General Assembly and Board of Directors of the Church of God in Michigan for five years from 2013-2018. He has been part of a Consultation Team for Church Health Ministry and previously served two terms as Secretary of the Division of Church Extension for the Church of God in Michigan.
He has served the First Church of God in Greenville and New Horizons Community Church of God in Jackson congregations for 20+ years in a variety of leadership positions including Chair of the Board of Trustees, Church Council, Pulpit Committee, Capital Fund Campaign and Board of Christian Education; and as an Elder, Deacon, and Finance Committee member.
Since his graduation from Ferris State University in 1979, Jeff has held a variety of Engineering, Purchasing, and Sales and Marketing positions in the HVACR industry. He, his wife Eva, and their family have lived in Adrian, MI since 1998, where they have served their local home school support group and athletic committee as Board members. As their four children have headed off to college and marriage, Jeff and Eva have begun the transition to empty-nesters. In recent years their family ministry has focused on multiple community based ministries providing food, shelter, transportation, counseling, and other basic needs to men, women, and children in Adrian and Lenawee County.
Jeffs spiritual gifts are administration, leadership and service. He looks forward to serving the General Assembly again as Secretary in October and if ratified at the 2021 General Assembly.
Assembly Ministries
Church Health Ministry
Tom Bader, Greg Capsel, Jaime Cervantes, Matthew Chesney, Emily Clark, Rhyan Glezman, Tom Whitesel, Jerry Lyon, Church Health Minister, Mark Richardson, staff.
Credentials Ministry
Michael Harris, Chair; Carl Baker, Terry Bernard, Joshua Brandt, Robert Confer, Chariese Matthews, Ronald Nuckles, Mark Richardson, staff.
Pastoral Health Ministry
Jeffrey Eckman, Chair; Portia Davis-Mann, Mary Lockley, Carron Odokara, John Mattern, Suhailah Talibah, Sheryl Thompson, Jerry Lyon, Church Health Minister, and Mark Richardson, staff.
Youth Ministry
Emily Potter, Chair; John Davis, Jesse Hargett, Alyssa Olivarez, Dante Rodriguez, Brian Spitters, Mark Staton II, Ex-officio: Ken Forsman, Michigan Singers; Kelley Dendel, Warner Camp; Ben Kreider, MSLI; Connie Graham, Director of Youth Ministry, Mark Richardson, staff.
Assembly Committees/Task Forces
360 Ministry Conference Task Force
Tom Bader, Rhyan Glezman, Debb Lyon, Jerry Lyon, Sharon Richardson, Becky Rodriguez, Mark Richardson, staff.
Audit Committee
Melody Capsel, Vance Kupisch, Jaela McQuillan, Paul Myers, Chris Walker, Mark Richardson, staff.
Business Committee
Alruthus Dulin, Theron Kersey, Michael Potter, Matthew Stone, Robert Tramel, Mark Richardson, staff.
Children's Ministry Task Force
Clyde Beaver, Sheryl Blake, Becky Rodriguez, William Shepard, Mark Richardson, staff.
Michigan Student Leadership Institute (MSLI)
Ben Kreider, Chair; Jim Sirks, Kevin Tippin, Connie Graham, Director of Youth Ministry, Mark Richardson, staff.
Personnel Committee
William Jones, Kimme Nuckles, Mike Stone, Jerome Willis, Mark Richardson, staff.
Program Committee
Tad Mellish, Chair; Dwight Fontenot, Nathanael Lyon, David Rails, Erin Taylor, Mark Richardson, staff.
Youth Convention Task Force
Tori Eckman, Alyssa Olivarez, Jenny Salas, Jim Sirks, Brian Spitters, Jessica Staton, Connie Graham, Director of Youth Ministry, Mark Richardson, staff.
Youth Winter Retreat Task Force
Krystal Kotesky, Mike Mazurek, Alex Merren, and Connie Graham, Director of Youth Ministry, Mark Richardson, staff.