Church Health Resource Videos
How many times in the last 15 months did you hear the word unprecedented? It seems like it was used so much that it became a joke. The reality is the last 15 months of our lives have been unprecedented, no matter how cliche that might sound. We have experienced things that none of us could have imagined.
We have lost loved ones, worshiped from living rooms on cell phones, distanced ourselves from our family to keep them safe, and delayed weddings and funerals. Church, school, and work were moved to online and our homes became sanctuaries, classrooms, and offices. On top of all of this we had a very difficult and dividing election cycle. All of this has taken a toll on our mental health.
As we start to come back together and restrictions are being lifted, we will continue to see the ripple effects of this unprecedented year on our mental health and the mental health of our congregants.
The Church Health Ministry team created video resources for you and your congregation to use, as you navigate the effects of the last 15 months. We prayerfully considered how to approach these difficult but important topics. We understand that it is often daunting to speak with someone about their mental health, let alone as a pastor considering caring for oneself during this difficult season.
Pastor Jaime Cervantes, First Church of God Benton Heights Campus Pastor, sat down with Dr. Marcia K. Wiinamaki, PhD, and Richard Watson, LPC to discuss the impact of the last 15 months on our mental health. Both Dr. Wiinamaki and Mr. Watson are Christians who work as professional counselors.
The extensive conversation between Pastor Jaime and Dr. Wiinamaki and Mr. Watson has been edited into three videos to serve as a resource for you and your congregation.
The first video covers the topics of depression, loneliness, and fear. The second video is a conversation about social media and politics. The final video is a discussion on pastoral care and self-care for pastors.
As we begin to heal and recover from the unprecedented nature of the last 15 months let us not neglect the healing and restoration of our mental health. The Church Health Ministry team hopes these videos will serve as a tool to help with that healing and restoration.
---
Disciple Making Churches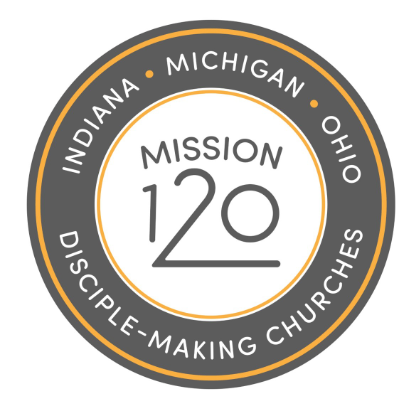 In 2013, the state ministries of Ohio, Michigan, and Indiana, and Healthy Growing Churches forged a partnership to spark a multiplication movement in the region. This partnership has indeed sparked a critical conversation that is leading more and more churches who are making disciples who make disciples and reproducing by starting other new churches.
We have learned that if we are going to continue to see this kind of multiplication continue and gain momentum, we need an engine. That engine is, disciple making churches! To see this engine continue to develop in the region, we needed the number of disciple making churches to increase, rapidly.
Therefore, the latest development in our regional partnership is the Mission 120 Initiative. Mission 120 is a venture to raise up and resource 120 disciple making churches in Ohio, Michigan, and Indiana. The goal is to see 40 of those churches in Indiana, 60 in Ohio, and 20 in Michigan.
This is not a program. This is not a "silver bullet." This is the long game that holds exponential possibility. This is the model Jesus gave us to follow.
We believe this venture will accelerate the number of churches in our tri-state partnership that have clear pathways for disciple making to multiple generations. We also believe this kind of intentional disciple making will lead to churches starting new works for the Kingdom.
We felt it was very important to define two important phrases as we embarked on the journey of raising up 120 disciple making churches. Those phrases are, "biblical disciples" and "disciple making churches." We define those this way:
Biblical Disciples are...
Intentionally following Jesus
Being changed by Jesus
Engaging the mission of Jesus
Disciple Making Churches...
Are led by disciple making pastors
Have a relational pathway for disciple making
Raise up disciples who make disciples, who make disciples
Send disciples into the mission of Jesus
The main thrust of this initiative is establishing learning communities of pastors we call Mission 120 cohorts. These cohorts meet monthly for ninety minutes via Zoom. Each of the six sessions are intentionally designed to help pastors develop a pathway and vehicle for disciple making that gets them to multiplying generations of reproduction.
In January of 2020, we launched our first wave of Mission 120 cohorts with the leadership of Jon Wiest from Groundswell. Forty-four pastors from the region have formed six Mission 120 cohorts. We have 23 pastors from Ohio, 15 Indiana pastors, and 6 from Michigan who are involved in 6 cohorts. When these pastors have finished their Mission 120 cohort journey, we will leverage their leadership to launch a second wave of cohorts in September of 2020. Once this second wave is launched, we will have 120 churches well on their way to becoming disciple making churches!
Would you like to hear more about the Mission 120 initiative? Or, how your church can get involved in a cohort in the fall of 2020? Jerry Lyon, Church Health Minister, MICOG, would love to connect with you. You can start that conversation by sending an email to Jerry expressing your interest and stating any questions you may have.
---
3C Congregations
Overview of 3C Meetings
Congregational Readiness
Objectives:
Assess the attitudes toward change that exist among those involved in your ministry.
Identify if your congregation is ready to multiply.
Locate your church on the missional Lifecycle.
Multiplication Theology and Evangelism Philosophy
Objectives:
Develop a multiplication theology to cast vision to your elders and congregation.
Develop an evangelism philosophy for your new church or campus.
Identify a self-imposed deadline on when you will share with your congregation.
Mission Fulfillment and Ministry Design
Objectives:
Identify whom you are called to reach.
Evaluate what needs you are called to meet.
Determine how you will meet those needs. 4 Apply strategies for implementing your multiplication vision.
Ministry Team Formation
Objectives:
Reaffirm that serving with others (team ministry) is the model Jesus used.
Emphasize the importance of gift-oriented ministry.
Prepare you to identify and recruit specific team members you need to accomplish your mission.
Highlight how essential prayer is and help you mobilize prayer support.
Launch Team and Action List
Objectives:
Understand why people connect and partner with a startup vision.
Evaluate how to capitalize on your team's strengths.
Assess how people respond to your leadership and influence.
Develop a visionary Launch Team Information Packet.
Funding
Objectives:
Describe your financial values and examine them according to a biblical ideology.
Apply your growing knowledge of budget allocation.
Develop a financial strategy which will support your vision.
Formulate a working budget.
Draft a fund raising letter.
The Plan Pt. 1 - Vision
Objectives:
Articulate the specific vision that God has for your congregation.
The Plan Pt. 2 - Strategy
Objectives:
Write a working strategic plan for your multiplication strategy.