January 17, 2022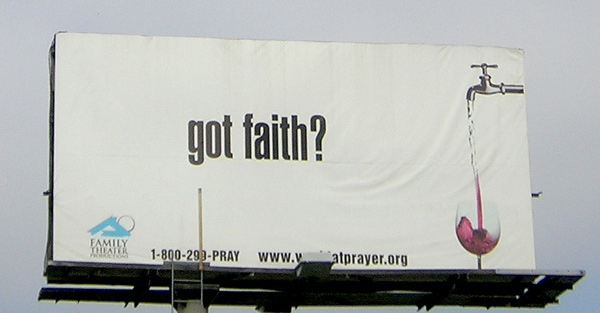 You Want Us to Drink What?!
It may not be an exaggeration to say that you have probably heard the story of Jesus's first miracle a hundred times or more. The wedding at Cana. Water turned into wine. Saving the best for last. This is such a well-known story that it has been turned into a billboard: the question "Got faith?" plays on the "Got milk?" marketing trend from the 1990s, and the billboard pairs those words with the image of a faucet pouring water into a wine glass. As soon as the water reaches the glass, it has turned into wine.
Recently, I read this passage (John 2:1-11) once again with a group of friends. This time, one detail grabbed my attention which I don't think I had noticed before:
The six huge jars, right? John notes that they were "the kind used by the Jews for ceremonial washing." In other words, the liquid inside them was never intended to be ingested by anyone. The water was for external purposes only: washing hands, arms, perhaps faces and necks.
Can you imagine how dirty that water would have been? But Jesus tells people to drink that stuff. All grossness aside, something remarkable occured to me: Instead of using the water for an external washing, Jesus wants to use the wine for internal transformation. Instead of cleanliness in outward appearances, Jesus wants people to experience internal purification.
I shared that reflection with my friends during our time of discussion. The very next person who spoke commented on the same detail, but in a different way: she noticed that Jesus was repurposing an old Jewish religious ritual. Jesus was inviting people to let go of how those ceremonial jars had always been used. Jesus was asking people to step into the present work of what he was doing right then and there, instead of relying on traditions and rituals of the past.
That idea rang true for me, as well. Remember Jesus saying something about new wine and old wineskins?
It's interesting to me that the "Got faith?" billboard refers to this miracle, even though faith is not mentioned in John 2:1-11. Faith doesn't seem to be important in the story at all, except perhaps in Mary's response to the shortage of wine.
If we reduce a passage of scripture to a simple billboard or bumper sticker slogan, we risk missing the richness of what God is communicating to us through scripture.
Let's keep reading scripture, listening for God's voice, and discussing what we hear with each other!
Rev. Dr. David Aukerman, Pastor, Mount Haley Church of God, Midland, Michigan