Dear Youth Leaders/Pastors,
The Church of God State Youth Winter Retreat is ready for January 11-13, 2019! We will be using Timber Wolf Lake Camp again. It is located at 4909 N. Morey Road, Lake City, Michigan. It is an awesome Young Life Camp and we will have wonderful ample space, beautiful facilities, awesome leaders and the great events we always look forward to! Check out the camp at www.timberwolf.younglife.org.
We are anticipating having many churches join us this January. Each group must have adult chaperones for male and female youth, Churches may determine the appropriate number for your group.
Speaker
Matt Derby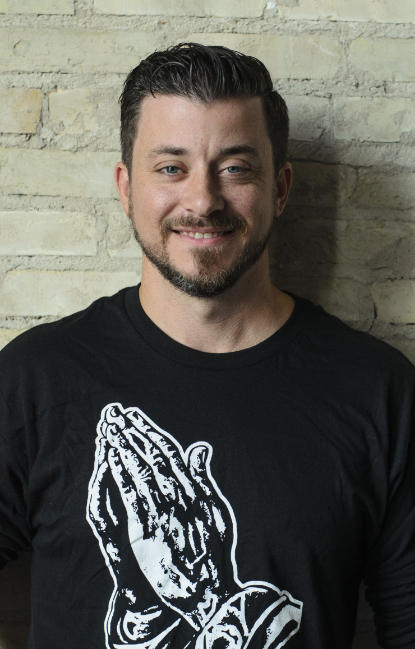 Pastor Matt Derby has been in ministry for over a decade. He is passionate about facilitating an atmosphere where students can actively seek, experience and share the Love of Christ while learning to use their gifts and abilities to serve. Matthew began ministry with Youth for Christ, as a Campus Life Director, where he learned to build strong relationships with students outside the church. At LifeAustin Church in Austin, Texas, he spearheaded a successful Junior High ministry program, and launched the social media program and online platform. Upon his return to Michigan, he became the Associate/Youth Pastor at Edgewood Church of God, a position enjoyed for three years before being dually employed by Edgewood and Ithaca Church of God. He currently directs a merged-church youth program, enjoys regular Sunday preaching responsibilities at both churches and acts as a community outreach visionary. At home, Pastor Matt and his wife Brandi, love brainstorming about incorporating fine arts into ministry and enjoying time with their four children Selah, Ryah, Katarah and Judah. Matt holds a Bachelor's Degree in Marketing/Advertising/Management from Northwood University, Midland, Michigan.
Worship Artist
Joe Guerra
Joe was with us two years ago at Winter Retreat by big demand, he is back! Joe is a songwriter, worship leader, & entertainer with a passion for music to inspire others. Over the past few years, Joe has shared his music with countless individuals across the globe at concerts, camps, and festivals. Four EP releases make up the discography; the most recent being "Reason to Breathe" produced by Jake Rye of the charting band Sanctus Real. "I love the opportunity to share my music with others says Joe "I feel as though every time I do it is a chance to celebrate stories of life with all of its ups and downs. Joe's new project does just that- providing uplifting songs intended to inspire listeners to live a life of purpose.
Registration
Registration includes two night's lodging, four meals, evening snack, all programming, and recreation!
All registrations need to be received by December 12, 2018. Please include the names and sex of students, counselors, and work crew.
Include $50.00 registration per person for those needing to pay. Registration increases to $60.00 per person after December 12. The remaining $65.00 each will be due upon arrival. (Total cost is $115.00 per person if registered by December 12 and $125.00 if received after). We will NOT be able to refund deposits after Jan 2.
Online Youth Winter Retreat Registration
Scholarships
Resources are limited for student scholarships, but we want to assist if possible. Scholarships are designed for students with financial need & must be nominated by a youth leader. Congregations that are chosen will be awarded individual scholarships of $40.00 that can be used towards the initial registration fee. Churches desiring consideration should contact Connie Graham at cmyersgraham@chartermi.net or (989) 835-9262 no later than November 1, 2018.
Register and Pay using PayPal
Please include the total number of free kitchen staff members (male and female).
To assist with PayPal service fees, we add $3.00 per person when you register using PayPal. There are no service fees if you write a check payable and mailed to the Church of God in Michigan, 4212 Alpha Street, Lansing, Michigan 48910.
Schedule
Saturday Afternoon Free Time
The game room has game tables, including ping-pong, pool, foosball, air hockey and carpetball. The gym has a climbing wall, basketball court and space for volleyball or other games. Outside there is a tubing hill and broomball.
There is NO cost for any of the activities at Timberwolf!
The camp does have shirts, hats, souvenirs, etc. for sale in their Trading Post. There is also a Snack Bar (Blue Ox) and a Coffee Shop (Carltons).
Friday, January 11
7:00-8:00 Registration,- Dining Hall – move in, game room and gym open
8:30 Get acquainted, weekend kick-off- with Joe and band; Sawmill Auditorium
9:45 Counselors' Meeting- Sawmill Auditorium
9:45 Game room, tubing (until 11:00 p.m.) and gym; snacks served in game room snack bar
11:15 In your rooms!
12:00 Lights out!
Saturday, January 12
9:00 a.m. Breakfast- Dining Hall
10:00-11:30 Singing and sharing with Matt and Joe – Sawmill Auditorium
12:30 p.m. Lunch- Cafeteria
1:15-5:00 Activity time- contests, tubing, game room, gym (Snack bar, store and coffee shop open)
5:30 Dinner- Cafeteria
7:00 Singing and sharing with Matt and Joe-Sawmill Auditorium; Group sharing time, discussion, and snacks
9:30 Game room, gym, tubing, and snacks
11:30 In your rooms!
12:00 Lights out!
Sunday, January 13
Prior to Breakfast-Packing Up!
9:00 a.m. Breakfast- Dining Hall (Snack bar, store, and coffee shop are closed today)
9:45-11:30 Singing and sharing with Matt and Joe- Sawmill Auditorium
11:30-12:30 Dorm Clean-up (Mandatory!)
Saying your good-byes!
Go For Free
All our meals at Timber Wolf are served family-style and with everyone eating at the same time. Young Life camps strongly emphasize serving one another, so we are required to provide kitchen work crew to help their staff with preparing and serving meals. These are adults you bring in addition to the counselors that are in attendance for the students. We are asking that every group coming bring one volunteer for every seven paying guests and for smaller groups, bring at least one person to help. Kitchen crew do stay at NO charge! The facilities where these adults stay are wonderful! Helping in this capacity allows adults the opportunity to see what happens at a winter retreat, but not be a one-on-one counselor, but serve their church group in a wonderful way. It may be possible that individuals will still have time to attend a service or see some of the activities of the retreat!
The kitchen crew needs to complete a guest consent release form also.
More Information About the Kitchen Work Crew
The Timber Wolf Lake Staff are looking forward to hosting us for our State Church of God Youth Winter Retreat. Here is some additional information to share for the volunteers in the work Crew:
Who is Work Crew?
Work Crew serve as volunteers who work directly with the Timber Wolf Lake Food Service Staff as wait staff in the dining hall, assistant cooks in the kitchen or dishwashers. Work Crew provides a unique opportunity to serve campers and leaders during their time at Timber Work Lake.
A Few Reminders:
The Crew stay free of charge; meals and housing are provided with linens.
The Crew must be High School aged or older and must provide a completed guest consent release form.
Work Crew Responsibilities:
Upon Friday evening arrival, the Crew will meet with the Food Service Staff and be trained for the weekend. This will take a minimum of 2 hours.
Work Crew wait staff will serve for a minimum of 3 1/2 hours per meal served in the dining hall. They will be responsible for setting tables, serving the meal to guests and cleaning after the meal.
Work Crew assistant cooks will be assigned AM PM shifts depending on the meals being served for the event. They will assist the Food Service team in preparing food throughout the retreat.
Work Crew dishwashers will serve a minimum of 3 1/2 hours per meal. They will be responsible for cleaning dishes throughout the retreat.
Crew workers are expected to stay the entire retreat and may be required to work beyond hours listed above based on the needs of the guest group.
Work Crew folks should not attend the retreat as regular campers; their responsibilities in the dining hall will require the majority of their time. Please do not plan on Work Crew serving in other capacities throughout the weekend. The Work Crew Boss for the retreat will work directly with the Food Service Team to coordinate the Crew.
On departure day- the crew is required to assist the Food Service Team in cleaning the kitchen and dining hall areas. Adequate time should be allotted in order to complete these tasks before departure.
Weekend Needs and Notes
Each person will need to bring: lots of warn clothes/snow clothes, Bible and toiletries.

The camp furnishes all bedding, blankets and towels!

The camp forbids smoking, alcohol, and illegal use of drugs.

Every group must bring medical authorization forms for your group, signed by the parents, in case of any emergencies. What you use for other events during the year is adequate. The local hospital requires these.

You must download the guest consent release form for EVERYONE- adult chaperones and kitchen crew also! Bring the filled out waivers with you to the retreat.

If there are any food allergies in your group, please let me know when you register.